The company D.M. Consunji Inc., famously known as DMCI is well-known in the construction industry in the Philippines. Hailed as one of the top 3 construction companies in terms of gross revenue in 2016, it is engaged in large-scale projects in four key segments: building, energy, infrastructure, and utilities and plants. Since its establishment 65 years ago, DMCI has accomplished landmark projects including the Cultural Center of the Philippines, Church of the Holy Sacrifice, and the Philippine International Convention Center. It is also behind the construction of Solaire Resorts and Casino in Manila, the NAIA Expressway, and the Rockwell Business District in Makati.
Like any company, there is that one visionary who put forth the idea of starting the business, someone who has driven the company to where it is now: for DMCI that is D.M. Consunji himself, or David Mendoza Consunji.
Born and raised in Hermosa, Bataan, David is the second child of Gaudencio Consunji and Consuelo Mendoza who had 9 kids in all. Interestingly, the Consunji patriarch is a 71st-generation descendant of the great Chinese philosopher Confucius, making David a direct relative.
The middle-class family kept and tended a farm in the said town and lived a simple life. Eventually, David, along with his siblings, was brought by his mother to Manila. He studied high school at De La Salle University and finished his civil engineering degree at the University of the Philippines in 1946 after the war broke out. He became a licensed civil engineer that same year.
However, it is during these times that David suffered great losses in life: his mother to an undiagnosed heart condition; his older brother Jorge while the war had started in 1944; and his father and his uncle to rebellious groups while in the province in 1945.
After graduating, DM, as others fondly call him, became a teacher in Bataan and later worked as a concrete inspector in a construction firm named Streift and Kwenzle. It did not take long until he decided to start his own business. But before that became a reality, he apprenticed for four months without pay to be a builder, gradually learning about real estate and land development. He did this with Sta. Clara Construction.
By 1950, DM capitalized on whatever he had to start a small construction company he called David M. Consunji Civil Engineer Contractor. Thanks also to the help of his cousin Ricardo who was in the industry ten years ahead of him, the engineer started on the right foot as a builder.
Through this business, David's brilliance showed.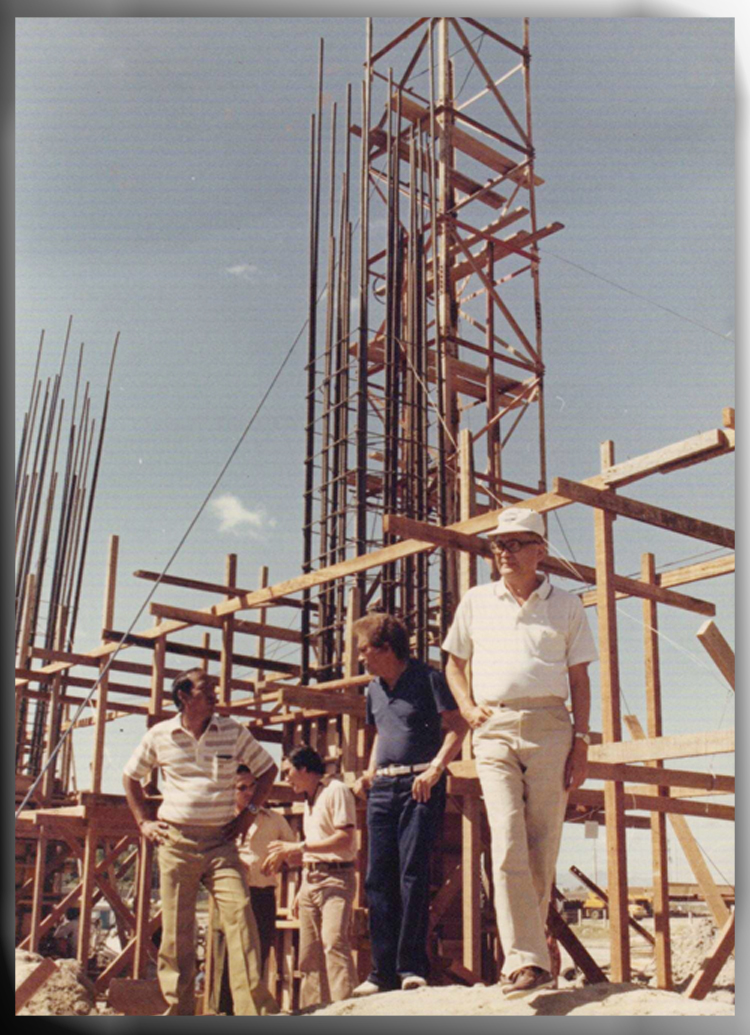 One of his most early notable works is a plant for Don Andres Soriano, who was a tycoon impressed by how DM finished the project almost six months ahead of schedule – but without compromising the quality. This became the trademark of DM's construction company even up until today.
After DMCI became incorporated in December 24, 1954 only with a small room in Pandacan, Manila, it made its way to the top finishing projects after projects that are completed before deadline. From building chicken houses for the Bureau of Animal Industry to finishing the Tacloban Coca Cola plant and the Bacnotan Cement Plant, DMCI's growth was almost exponential.
Soon, it had contracts with several big companies like Ayala Group, SM Group, San Miguel Corporation, including multinational ones like Mitsubishi Heavy and Nippon Steel and educational institutions such as his alma maters.
One of the engineer's secrets as a contractor is not to bid the lowest but to submit a proposal with the shortest construction timeline possible. This entailed cost, but also this did not mean to bargain quality; Engr. David focused on one of life's most valuable assets: time. To finish projects the soonest time possible was his promise to clients and he always delivered with utmost integrity.
With the company's steady progress, DMCI Holdings was incorporated in 1995 and was registered with the Philippine Stock Exchange in the same year.
Notably, under the Marcos administration, he served as the Secretary of the Department of Public Works, Transportation, and Communications but only between 1970 and 1975. He bailed out as he did not ride along with the hocus pocus that was going on in the government agency.
For this trait, among others, DM was a well-decorated business tycoon until he expired in September 4, 2017. He left his businesses to his wife and his 8 children.
In his 95 years of existence, he received the following awards: Outstanding Citizen of the City of Manila for Engineering in 1979; Papal awardee of Knighthood of Saint Sylvester in 1988; Doctor of Laws, Honoris Causa by the University of the Philippines in 1988; Meralco Awardee in Engineering and Applied Science in 1994; Management Man of the Year Awardee in 1996; one of the four awardees of The Outstanding Filipino (TOFIL) of 2002; and the UPAA Lifetime Distinguished Achievement Awardee in 2005.
In 2017, he made it to the top 6 of Forbes' List of Philippines 50 Richest and number 630 among billionaires worldwide.
Today, DMCI, under the leadership of DM's eldest son Engr Isidro A. Consunji, continues to flourish based on the principles of its great founder David. For this and many others, Engr. David was named as the grandfather of construction in the Philippines, and rightly so.