In the Philippines, unfinished or substandard road construction projects, low-quality public school buildings, and erring flood control and drainage systems continue to plague the lives of the people. The Department of Public Works and Highways, created to take care of the planning, design, construction, and maintenance of these infrastructures, receives a lot of flak for this grand display of corruption in their ranks, something that has not been resolved over the years.
A Pulse Asia survey in 2009 revealed that the DPWH is the most corrupt government agency as perceived by the public. Exactly ten years later, the Presidential Anti-Corruption Commission (PACC), created by President Rodrigo Duterte to stop government corruption, named the same agency as the most corrupt after substantial complaints from March 2018 to February 2019 were received against DPWH. PACC chairman Jimenez in a press conference sharing this finding told that it is during the implementation of road projects where the corruption happens. According to reports, there is connivance between its district engineers and the elected officials, including congressmen, but Jimenez failed to mention any names or specify regions.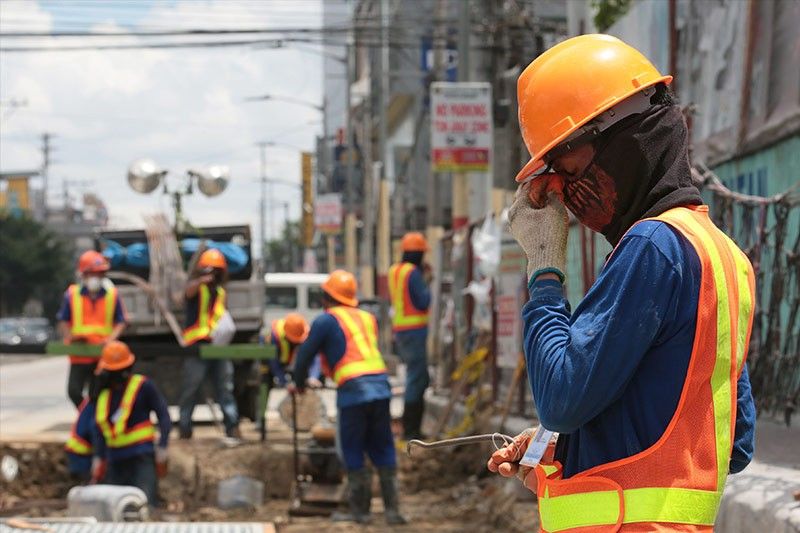 Public works are visible, so judgment of the performance of its implementing arm prevails versus other government agencies. Especially that the DPWH is being allocated with huge amounts of money and yet it doesn't always deliver quality work.
It does not help the DPWH that the Commission on Audit has flagged delayed and defective projects in its 2019 annual audit report. According to Philippine Star, of the 2,411 construction projects amounting P101.6 billion, implemented by DPWH offices from 2015 to 2019, there were 1,740 with total cost of P65.9 billion which "were not finished nor completed within the specific contract time or required.
To be fair to the DPWH, it is well aware of how it is being painted by the public and has been trying its best to improve public perception by instituting programs to streamline processes, promote efficiency and honesty, and eliminating personnel with corruption records and incompetency.
Compliant to the Government Procurement Reform Act (GPRA), the agency has moved to apply uniformly GPRA's Implementing Rules and Regulations. The DPWH also created a registry of all civil works contractors through the Road Information Support System (RIMSS) to screen and examine them; a tracker called Document Tracking System (DoTS) to reduce red tape and opportunities for graft; and a method known as New Government Accounting System (NGAS) to facilitate processing of payments.
Moreover, it also uses the Constructor's Performance Evaluation System (CPES) guidelines of Department of Trade and Industry (DTI)'s Construction Industry Authority of the Philippines (CIAP) to check the performance of contracts in project implementation. Different accreditation systems were also put in place to ensure assignment of honest, competent project engineers and inspectors to different projects; to augment DPWH's own testing capability by tapping private testing laboratories, and to guarantee high-quality materials from asphalt and concrete batching plants.
But it looks like their best, through these measures, isn't good enough, even when its leadership changes, as their programs barely have any teeth to it to curb corruption.
So what must be done to solve this perennial problem?
Procurement Watch Incorporated, an organization which specializes in monitoring public procurement in the Philippines, suggests in a report that the Quality Assurance Unit of the DPWH, the watchers within the organization, should be expanded given its relative success in removing dishonest personnel. The government agency should also enforce stronger performance bond mechanisms to ensure quality in public works. From the outside, civil society monitors should be provided with legal protection, also with strengthened capacity-building to be able to perform their mandate. Independent engineering consultants should be instituted as well to implement the work of civil society monitors.
It is one thing that entities fail to do its mandate of monitoring the DPWH from its corrupt practices and weeding out the corrupt, and another to remove that culture of graft in the agency. It takes an entire millennium to replace these bad habits as a result of failure to implicate those who patronize them. In effect, the image of engineers, particularly civil, is tarnished.
Ultimately, such culture in the DPWH will die eventually if the next generation of engineers who will join the government agency will not allow or tolerate the corruption that surrounds it. A college classmate almost got absorbed into this but good thing he made his exit early on.
He worked at the DPWH for roughly two months, assigned in one project. One day he was surprised he received a substantial amount in his salary account which he did not know who or where came from. It is upsetting to believe that he was forced into accepting it even as newbie, as if the bribery is already instituted with the work. Utterly disgusted by the practice, he resigned.
At the end of the day, the DPWH remains as the poster boy of corruption in the Philippines. And it continually proves to be so.
Please, for the sake of our country, if you know any irregularity like this and this by the DPWH or any government agency, contact the PACC via pacc.complaints@gmail.com
Top photo via Canadian Inquirer