My journey in getting my first tattoo has its major roadblock from the start: my mother's disapproval.
But if ever that I get inked, my first will be by the famous Apo Whang Od herself. The problem was that she is not any younger, so I decided right away to become a black sheep in this episode of my life. All for that pride and honor to be tattooed by someone like her.
For those who do not have a background who Apo Whang Od is, she is an indigenous woman who lives in Buscalan in the mountainous province of Kalinga, in the northern part of Luzon, Philippines. She is famous for her traditional tattoo art known locally as pambabatok. Apo is a centenarian — she is considered as the oldest tattoo artist in the Philippines.
Upon knowing her age as well as health status, as I had mentioned, I knew I had to visit her right away.
And I did in October 2017.
All the information below is according to my own knowledge and experience that time. So fair warning: some details, like prices, features, and timeline, may have varied.
Nonetheless, after reading this until the end, you should be able to grasp how to get inked by the last traditional tattoo artist in the Philippines of her generation and have an idea on what to expect upon getting to her place.
How to Get to Buscalan
Buscalan is found in the outskirts of Kalinga so the place is fairly difficult to access. Apo's home is also at the top of the mountain; so other than the long ride, it will take some nature hiking to meet Apo.
There are three ways to get to Buscalan: a private car, a habal-habal, or a passenger van.
You need a full tank to reach Buscalan using your own vehicle especially if you are coming from Manila. If you do not have this option, you can take the habal-habal from Bontoc in Mountain Province, which is approximately 45 kilometers away. Or you can ride a passenger van from travel agencies which I believe is the best and most convenient choice.
This is our group organized by Awra Adventures. Fun people to be with!
But the last option is only good if you are willing to join a group composed of other travelers. I took the services of Awra Adventures (recommended!) on this one, and I was merged in a group together with Lemuel, my friend from college who is also a traveler. We were packed comfortably in a van.
Awra managed the transportation from Manila to Buscalan and vice versa, including all our meals in Buscalan. It was really a hassle-free experience; affordable, too! Also, my group was far more fun than I had expected which made this trip a lot more memorable.
After reaching Buscalan, all of Apo's visitors have to brave quite a steep mountain.
I tell you, my 10 minutes of doing regular cardio at the gym was not enough to prepare for this hike. Even a few members of my group, who claim to have had hiking experience before, had difficulty in this particular slope.
It is suffice to say that getting an ink from Apo is not for the faint-hearted.
Getting a Tattoo
As already mentioned, Apo is already 100 years old at the time. This means that she no longer has the best vision or the strength to cater all the visitors who want to get tattooed by her.
So she trained kids, most of which are Apo's kin, in her village to continue the pambabatok tradition. The kids are considered Apo's grandchildren through her siblings. And yes, Apo is single – not sure if ready to mingle.
This is Lemuel, my college friend who went with me in this trip.
The rest of the group, mostly girls, also getting their tattoos.
I got two tattoos. On the left side of my back is a figure which represents 'traveler' done by one of the kids, and on my left chest is the three-dot signature of Apo Whang Od.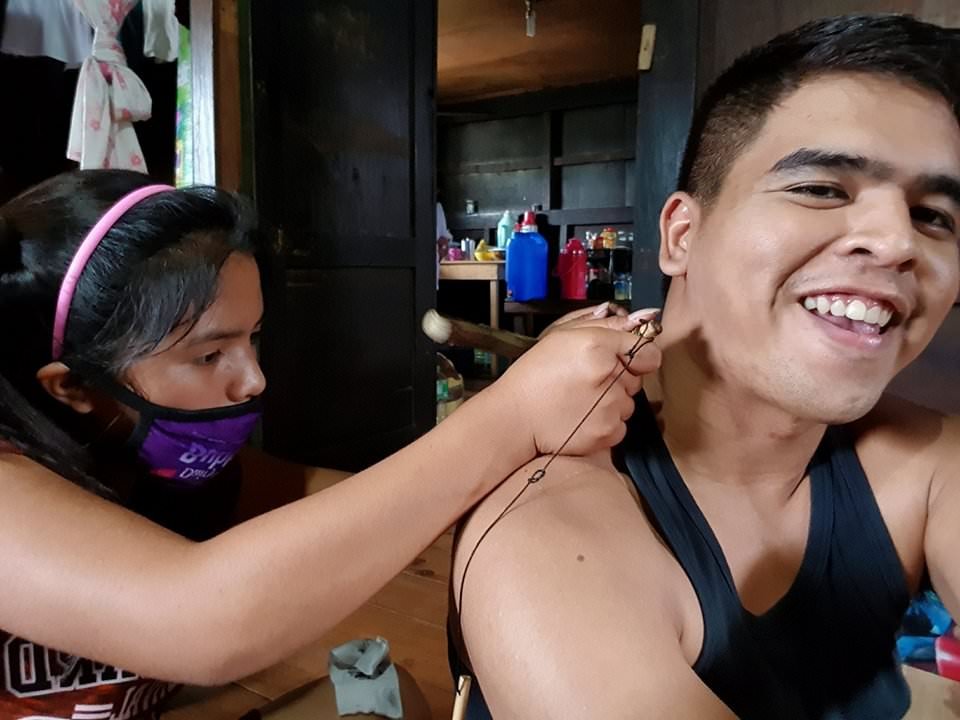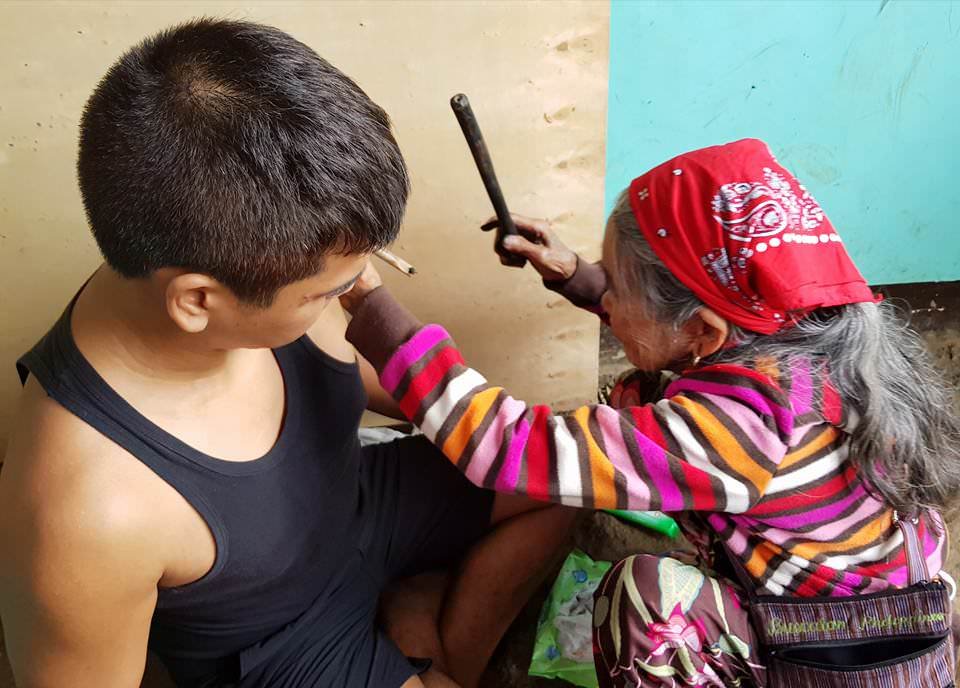 Apo's signature only minutes after I was inked!
A tattoo from the Buscalan kids costs 300php to 1,000php depending on the size and detail. It takes about 30 minutes to more than an hour to finish the process.
Here are your tattoo choices! Unfortunately, they do not allow custom designs at the time.
Meanwhile, Apo keeps her art alive by inking her signature for 100php. That only takes 5 minutes at most. And if you are a lucky man, you get to get grabbed by the crotch afterwards too, which is a rather odd 'tradition' that also made her famous on the Internet.
What Else to Do in Buscalan
There is no network signal in Buscalan so you have to live offline.
You can interact with the locals, especially your hosts and guides who most likely know how to speak Tagalog (majority of the people in the community speak a native language).
I had an opportunity to play with these kids in their open area. The only language that we have in common is happiness. That's enough for us to communicate with each other.
Our group had Ate Dolores, her daughter Leticia, and a boy whose name I already forgot as our guides. I recommend them for keeping us safe and sound during our stay in Buscalan.
Buscalan is nowhere short in trees and mountains. Such is a perfect view for wallpapers, or Instagram for others. For that, I got to appreciate the tranquility of the nature there. It gave me time to think — something that the hustle and bustle of the city life cannot offer.
Just like Ate Dolores pictured here, drinking her morning coffee.
Upon waking up the next day, I took a solo tour in the nearby mountain. So yeah, this is my woke-up-like-this look! While being half-naked!
Pigs, dogs, and chickens are all over the place. Expect that in every 10 steps you will come across at least any one of those. Oink oink!
At the time we went to visit Apo, there was a wedding ceremony going on. It was a Saturday. All visitors of Buscalan were invited to the feast. There was also a program at night for the guests where the indigenous people performed traditional dances.
Frequently Asked Questions
"How long does it take to get to Buscalan?"
As of 2017, the ride to Buscalan from Manila takes about 10 to 12 hours depending on your route, traffic conditions and meal stops. This is the same going back to Manila.
We took the Manila-Banaue-Bontoc-Buscalan route which is probably the fastest one.
"Where can I get a tour going to Buscalan?"
I recommend you to look for 'joiner' groups or post inquiries in Facebook pages about traveling in PH in general. Check these links (1, 2, 3).
There are lots of offers around with good value, just say your target dates and place and the number of pax.
With my Buscalan trip, I received messages from about 7 organizers by posting in the travel groups as linked. I chose Awra because it is the cheapest at 2,400php. Quality service!
"Does pambabatok hurt?"
This depends on your pain tolerance level.
But all of the girls in our group were able to survive the process, which involves a sharp twig instead of a needle, without crying. That should say something.
"Is it safe?"
I was told that the mambabatoks use uling or soot as ink. I guess that's safe for everyone given that the tradition has been going on for a long time now, and my tattoo never got an infection, even 'til today, given that I followed the cardinal rule: do not let it touch to anything including water for two whole days.
"When can we get a tattoo from Apo?"
This depends on the health condition of Apo. When we arrived Saturday lunch time, we were unwelcomed to be inked by her and instead got into a waiting list for the next day. We were unsure of the reason though.
But as soon as we have settled, the Buscalan kids went to our rented local house and got our tattoos, the large ones, there. Good thing that the next day, Apo was healthy enough to meet, take a picture with, and ink guests for her signature tattoo.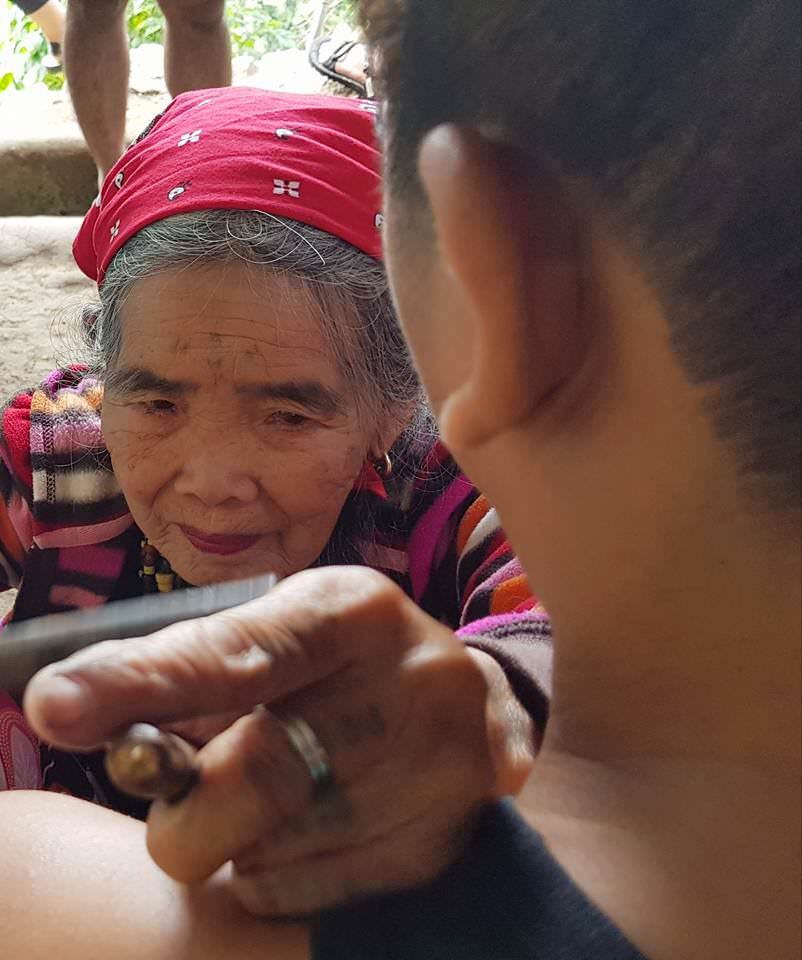 Note that Apo no longer gives large tattoos (for special occasions or price maybe) and instead she lets the new-generation artists to ink them. She only does the three-dot signature now.
"What sidetrips can we take going to Buscalan?"
From Manila, there are many possible routes which means that sidetrips can be really subjective.
But in our case, we passed by the famous Banaue Rice Terraces viewing point. It was breathtaking.
"What pasalubongs can we have from Buscalan?"
Take home any of these accessories like keychains and refrigerator magnets! But they are a bit pricey. Consider your purchase as a donation to the people of Buscalan.
Other than that, the best thing that you can take with you as you go home is their coffee.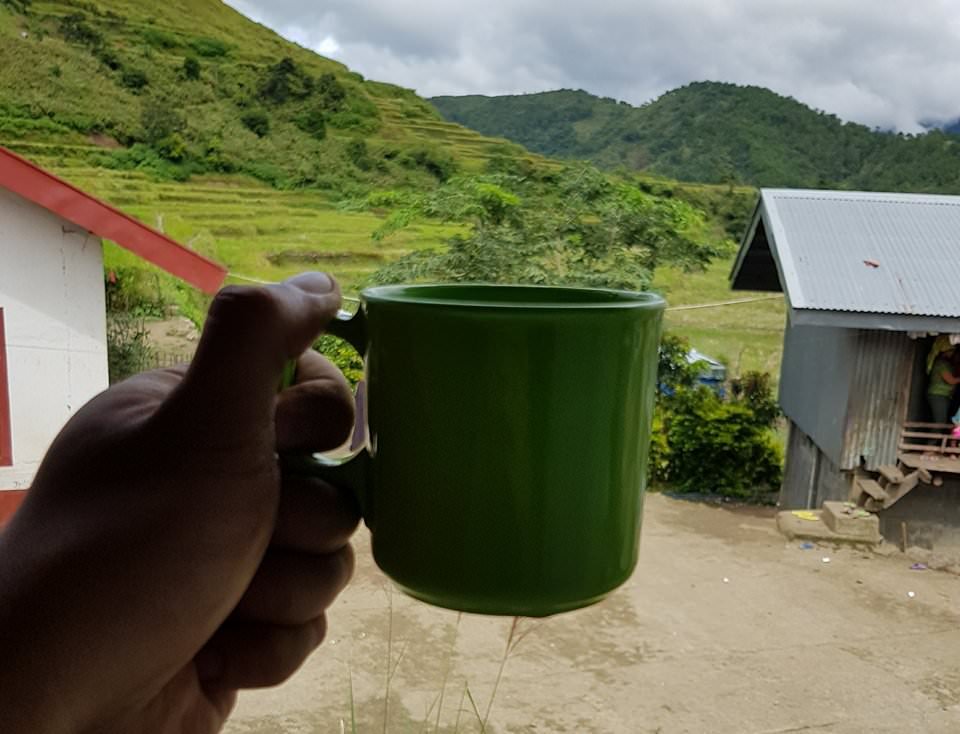 I'm not really a coffee person but once I tried their specialty — our host offers Buscalan's signature coffee for free — I got to drink 3 cups. A 1/4 kilo pack was sold at 100php. I brought home two packs.
"Is there water and electricity there?"
Water supply is intermittent. Just be patient about the flow of water going out of the faucet and you will survive the day.
Buscalan is on the grid so there is no problem when it comes to charging your devices.
"Can we fly a drone there?"
When Lemuel flew his DJI Phantom there, we really thought that it was allowed as he finished taking videos and pictures without being reprimanded.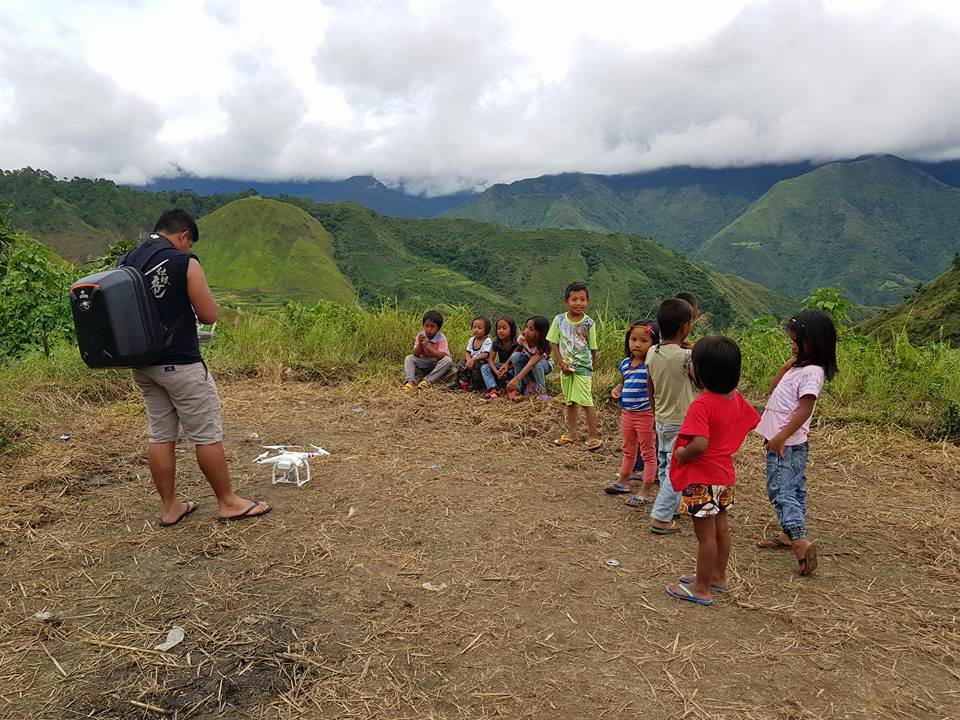 The kids were enthusiastic about Lemuel's flying toy.
Only to get back to Ate Dolores' home, he was given a warning, that flying a drone requires permission from the chieftain or kapitan. They did not mention about a fee, and we did not bother asking since Lemuel did not need to use his drone anymore.
That's pretty much it. If I missed anything that you would like to know about my Buscalan trip, leave them in the comments section.
I will end this blog by saying that you should take that weekend off ASAP and get the privilege of being inked by the last mambabatok of her generation.
Because Apo Whang Od, the centenarian, is not getting any younger.
An earlier version of this was posted on my Steeemit account. All photos are mine.