As of posting, the tallest tower built on land is Burj Khalifa in Dubai, United Arab Emirates. The building is 828 meters high, developed by Emaar Properties as part of the flagship development called Downtown Dubai found in the city's main business district.
If things go according to plan, the title for the world's tallest building will have a new owner by end of this year, after 10 years – the Jeddah Tower will surpass Burj Khalifa by 200 meters, making it the first building to reach the one-kilometer mark.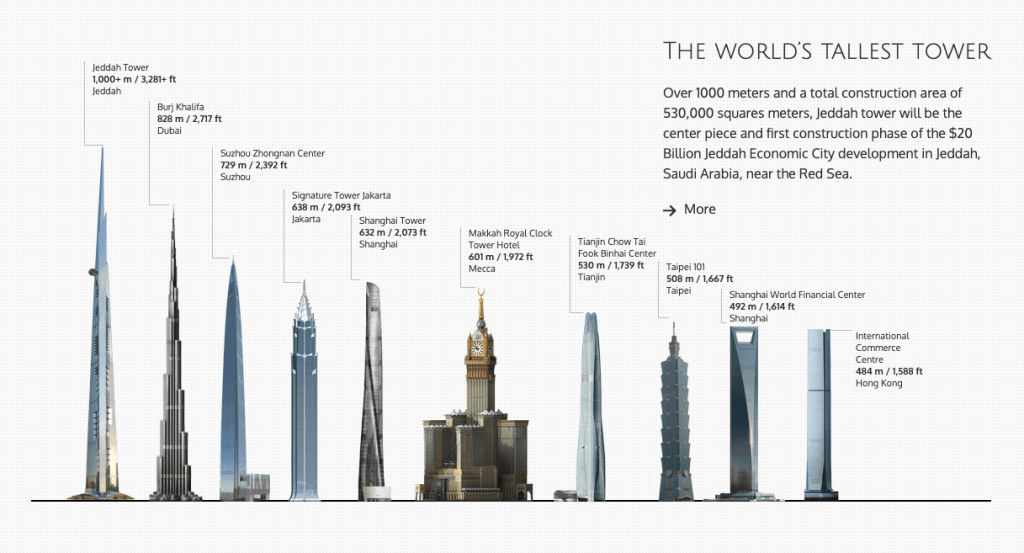 The landmark skyscraper is situated along the Red Sea in the North of Jeddah, Saudi Arabia and was previously called as Kingdom Tower. Its architect Adrian Smith, who happens to be the chief designer of Burj Khalifa designed it in such a way that the building looks like leaves shooting up from the ground, a symbol for growth and prosperity in this side of the world. to reports, the construction of the entire building is worth $ 1.23 billion dollars which was less than the amount spent for the previous record holder completed in 2010.
Once completed, the new world's tallest building will feature a 200-room Four Seasons hotel, 97 affiliated serviced apartments, 7 floors of offices and an observatory, which will be the highest in the world at 664 meters off the ground. There will be a total of 59 elevators traveling up to 660 meters at 12.5 miles per hour – that's 66.5 seconds from Level 1 to Level 157 where the deck is.
Although plans have been laid out for this tower as early as 2008, it wasn't until 2013 that the contractor started the pile foundation after several concerns raised were settled – the soil had to be investigated thoroughly if it could support such a heavy building (it is estimated to weigh over 900,000 tonnes), and that the tower's height could be too much for the sandy Jeddah soil.
In 2014, the structure started showing its face above ground, and the year after there were already 12 stories. By 2016, a total of 44 stories had been built; but in 2017, the project faced a major roadblock when people involved in the project – including Saudi Arabia's Prince Al-Waleed bin Talal, a prolific investor and businessman, and Bakr Bin Laden, chairman of the project's principal contractor Bin Laden Group, got entangled in corruption claims. Construction stopped for a while but they continued building the skyscraper with about 50 stories finished by end of 2017.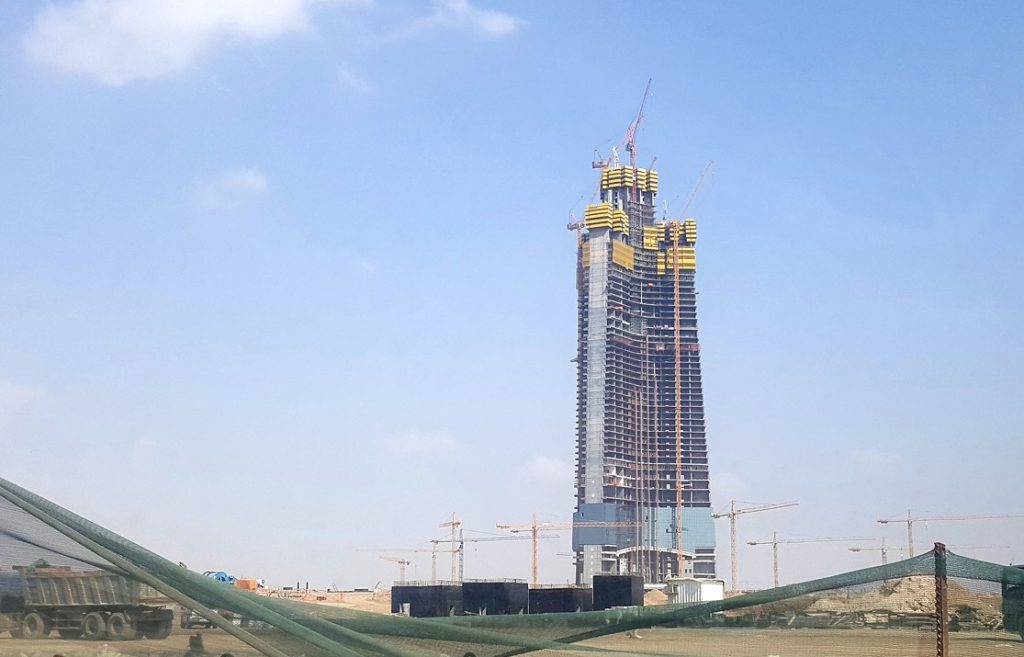 Now, as stated in its website, the Jeddah Tower will be topped of by 2020. In all, it will have 252 stories.
Sources: Smith Gill | The Jeddah Tower