If you are a licensed professional in the Philippines, most probably you have been worried about complying with the Republic Act 10912 or the Continuing Professional Development (CPD) Law. As stated in the said law, a licensed professional cannot renew his or her license without acquiring a required number of CPD units.
There is no question in the intention of the CPD law – to promote and upgrade the practice of professions through CPD programs – but getting these CPD units might require breaking the bank.
Case in point, a registered civil engineer has to earn a total of 45 CPD units by January 2019 upon declaration of a resolution by the PRC in 2017. If the units are to be earned via seminars, which is considerably the most common and convenient way to get CPD units, that would cost around P30,000 to P45,000 depending on the CPD providers.
That is already big money for professionals who barely make ends meet. Take it from me, a registered civil engineer who thinks that the rules and regulations of this law were not particularly well thought.
But it seems that the feedback of licensed professionals do not fall on deaf ears. At least somehow.
As posted on its website on October 7, 2019, the commission has allowed renewal of the Professional Identification Card (PIC) even without the required number of CPD units, but "upon execution of an undertaking to complete the required CPD credit units for the next compliance period."
It was valid until December 31, 2020, but was extended to December 31, 2021 via an announcement on May 19, 2020 to show PRC's consideration to professionals who are unable to meet the required number of CPD units.
Guide on How to Renew Your License Without CPD Points
Several government transactions now require online appointments to avoid crowds flocking in long queues in their offices, and those done with the PRC are included. So the process of license renewal starts online. Below are the steps:
Go to https://online.prc.gov.ph or https://online1.prc.gov.ph to get an appointment.
If this isn't your first time to renew, you should have the account on the PRC website already. In this case, sign in; otherwise, register an account with all the information necessary.
First timers will be required to fill in the blanks for the PRC profile including a 2×2 photo. Once you have the profile completed, click on the upper right corner to Select Transaction (see above photo).
The screen will show different transactions. Go to the Renewal tab. Select your profession and input your PRC License Number. Click Proceed.
The next steps will require you to select your preferred PRC Regional Office. Click Next.
Choose your preferred payment channel. As of posting, the PRC cashier is not available so you will be asked to pay via debit/credit card, PayMaya, or UCPB. Additional fees apply as indicated.
Submit application. You may be redirected to the payment site to complete the fee. Take a screenshot as proof of payment just to be sure.
Print the document that will be shown following completion of payment. This will be submitted later.
When this is done, you are ready to proceed with the visit to your chosen PRC Regional Office on your allotted schedule. So what are the requirements?
These vary depending on the professions, but in February 2018 when I renewed without the CPD units, I was asked the following documents:
A photocopy of your present Professional Identification Card
2 copies of passport ID pictures with the appropriate name tag
Printed copy of PIC renewal form from online appointment
A photocopy of your PIC renewal payment receipt (printed copy of screenshot can be substitute when it was paid online)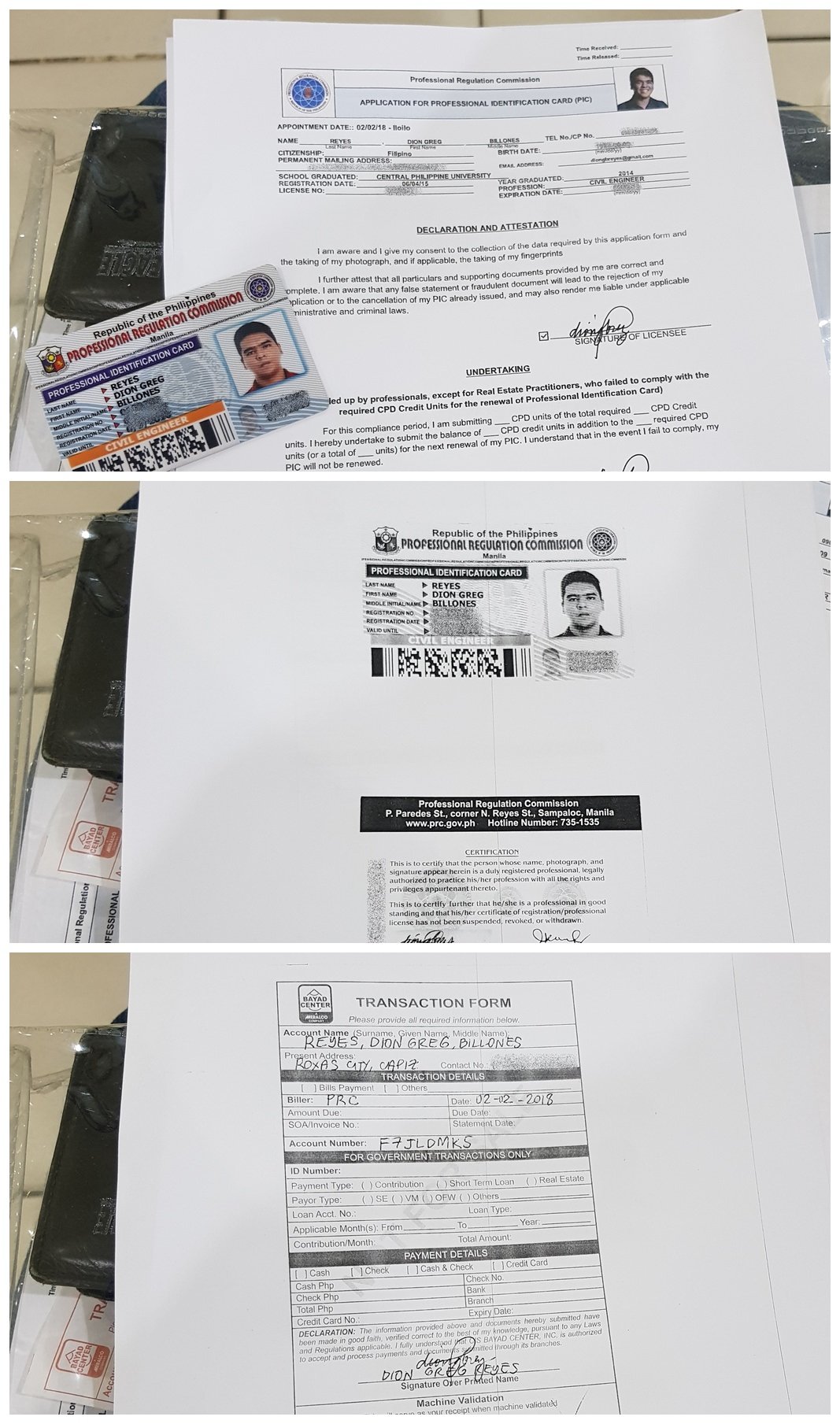 You might be asked another requirement like Certificate of Good Standing (applicable to select professions only) issued by your Accredited Professional Organization (APO). For those who will not be able to renew the license personally, Special Power of Attorney and valid ID for the authorized representative will be required.
Next step is to go to the Renewal Division of the PRC Regional Office and they will assist you with the rest of the process.
Without the delays, you should be able to get your new PIC within the day. Congratulations!
For more information on PRC's Online Services, go back to https://online.prc.gov.ph or https://online1.prc.gov.ph.
Background of the CPD Law
Authored by Senators Antonio Trillanes, Cynthia Villar, and Francis Escudero, the R.A. 10912 lapsed into law on July 21, 2016 and took effect on August 16, 2016. It was implemented on March 15, 2017 upon the effectivity of Resolution No. 1032 or The Implementing Rules and Regulations (IRR) of R.A. No. 10912.
There are different ways to earn CPD points including but not limited to the following: formal learning, nonformal learning, informal learning; self-directed learning, online learning activities; and professional work experience.
Each profession has its own CPD council which acts as the steering committee on the regulation, implementation, monitoring, and assessment of the CPD law respective to the profession.
To view the signed copy of the CPD Law, please click here. Meanwhile, this is the IRR of the CPD Law.
More on the PIC Renewal
The PRC ID, which also serves as a professional license, expires every three years and needs to be renewed on the birth month of the PRC ID owner. As stated on the PRC website, the renewal fees are as follows:
For professions requiring baccalaureate degree: ₱150.00 per year or total of ₱450.00 for three (3) years
For professions requiring non-baccalaureate degree: ₱140.00 per year or total of ₱420.00 for three (3) years
A surcharge of ₱30.00 (baccalaureate degree) and ₱28.00 (non- baccalaureate degree) is added if PIC is renewed twenty (20) days after birth month.
For more details regarding transactions with the PRC, go through their FAQs here.